Our curriculum is ambitious, diverse and research driven
INTENT
At Hunsbury Park Primary School, we strive to generate a life-long love of reading in our pupils by encouraging children to become enthusiastic, independent and reflective readers, who choose to read for pleasure. We aim to ensure children understand the importance of reading whilst also ensuring children are taught effectively to read with fluency, accuracy and understanding.
We feel it is important for teachers to act as reading role models demonstrating a love of reading and a good subject knowledge. In order for children to reach their true potential in reading we aim to engage parents and encourage them to support their children to continue reading at home with their child. We strive to provide the children in our school with a rich and diverse diet of reading material to ensure they have access to literature from a range of cultures, genres, styles and formats.
To support early reading, we use a synthetic phonics programme called Sounds-Write, which is an inclusive programme for all children learning to read and spell. Through this, children learn the 44 common sounds in the English language and how to blend them to read and spell. We use Talk for Reading as a methodology to teach reading skills. It is powerful because they are based on researched principles of how individuals learn and is fully inclusive of teaching reading, with progressive movement from introduction to investigation to independent application, that can be adapted to suit the needs of learners of any stage. Alongside this, Reading for Pleasure is a key driver at our school and all teachers at Hunsbury Park Primary School are responsible for promoting this, particularly through their daily Read Alouds.
IMPLEMENTATION
Phonics
EYFS/KS1
In EYFS, Year 1 and Year 2, the children have a Phonics lesson every day. These last for approximately 30 minutes and are taught using a whole-class approach. During these lessons, the children have the opportunity to recap previous learning to embed it, learn new phonemes and graphemes, build words, read words and apply their learning in their writing. The lessons are structured, consistent, well-paced and interactive to allow children to have more opportunities to 'do' than just to 'listen'.
During phonics sessions you would expect to see:
direct, focused phonics being taught every day in EYFS and KS1
children reading from books with the sounds they know, while they are learning to read
teachers and teaching assistants providing extra practice through the week for children who are making the slowest progress
children reading age-appropriate books
teachers instilling a love of literature
retrieval and consolidation opportunities
Children read 1:1 with adults at school and at home using the Dandelion book scheme, which are fully decodable texts. These books are linked to the child's phonics ability and allow consolidation of previously taught sounds.
KS2
Children in Year 3-6 will read to adults throughout each term. Those children who require catch-up will take part in interventions, including Switch-On reading sessions and small group sessions for phonics consolidation.
Reading for Pleasure
All pupils are expected to complete home reading supported by their family with new books being sent home at least once a week. Home reading is tracked via reading records and additional reading is provided for those unable to read at home, those who are struggling to progress or those who are entitled to additional support.
We promote reading for pleasure at our school by:
having book corners where children can select books to read
ensuring library sessions are a regular part of children's school life
the READATHON initiative, where children receive rewards for working through their bookmarks
ensuring daily read aloud sessions, where teachers read and discuss texts with their class
Talk for Reading
The Talk for Reading method enables children to gain a fantastic, in-depth understanding of a text with huge emphasis on vocabulary, reading fluency and the teaching of specific comprehension foci during each unit, although all content domains are touched upon.
Initial Phase: Baseline assessment and planning
Teaching is focused by initial assessment. The aim of this is to assess what the children already know and can do independently at the start of a unit, drawing on their prior learning. Through the assessment of their reading skills, teachers work out what to teach the whole class, different groups and adapt the model text and plan. Targets are set for individuals. which encourage pupils and help us track the impact of teaching.
First Phase: The Introduction Phase
The teaching begins with a creative 'hook' which engages the pupils with a sense of enjoyment, audience and purpose and also provides context for the text they are about to study. During the early stages of the process, children are given opportunities to share their initial thoughts about the text and raise questions which can be referred back to throughout the unit. After children have been initially exposed to the text, the main focus of the Introduction phase is to ensure that children can access the key text, have a good understanding of the vocabulary used and gain a basic understanding of the key text. The teaching in this stage is influenced by the work of Aidan Chambers, Isabel Beck and Alex Quigley.
Second Phase: The Investigation Phase
Once children have a basic understanding of the text, they then begin to develop understanding at a deeper level. They are taught how to answer key questions linked to each content domain through modelling and the shared writing of answers. Once confident, the children are then encouraged to answer key questions about the text independently, with the support of shared writes. Drama is also used within this stage to deepen understanding and extended writing opportunities are also incorporated with children putting themselves, for example, in the shoes of key characters or into a particular setting. At the end of this phase, the key comprehension foci are taught explicitly with the teacher modelling answering questions with the support of the children.
Third Phase: Independent Understanding Phase
As children move on to the third phase, they apply independently what has been taught and practised in another context. The children will be asked questions linked to the comprehension focus based on a new text with a link to the first, for example, same author, next chapter or next paragraph or a text with a similar theme.
IMPACT
By the time children leave Hunsbury Park Primary School, they are competent, lifelong readers and communicators. Attainment will be assessed using:
The independent task which is completed by children at the end of each unit. Teachers use this to inform the impact of the teaching.
Regular phonics assessment.
Whole school reading moderation.
Quality Assurance of reading is completed by the Reading lead alongside class teachers during regular progress meetings and learning walks.
Phonic Screening Check.
KS1/2 SATS.
Reading records.
SEND and Disadvantaged pupils
Our ambition is for all pupils to access the full reading curriculum. These pupils will be supported to provide them with full accessibility to the reading lessons. Catch up and Keep up Sounds Write sessions will be used as interventions where needed to ensure that children are able to access the reading curriculum.
How Does English Promote British Values?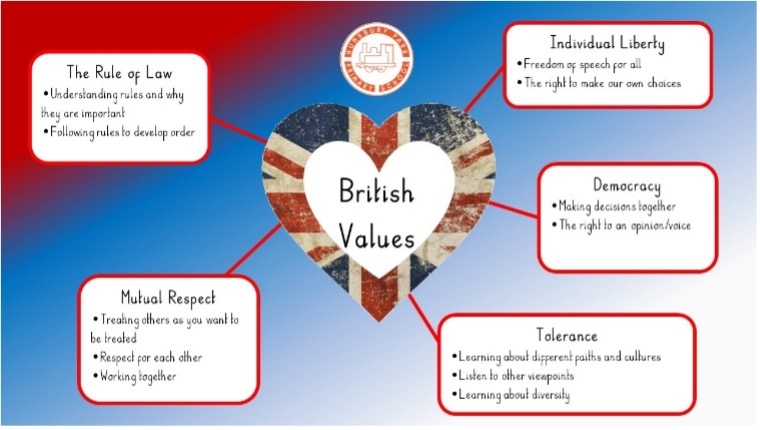 As a school, we value and celebrate living in, and being part of, Britain. Our reading and writing texts celebrate classic British texts, as well as exploring a range from other cultures in order to promote acceptance and tolerance of other cultures.
Democracy
Children have many opportunities to have their voices heard and share their opinions during English lessons at Hunsbury Park. They take turns and listen to others' answers and views when discussing books or texts. They respect the right of every individual to have their own thoughts and voices heard, using sentence stems to support this.
Rules and Laws
Through English, the importance of rules and laws are reinforced in different ways. There are clear rules for Book Talk sessions in use across the school. There are non-negotiable expectations for written work, such as Everyday Writing Toolkits. Children at Hunsbury Park are rewarded for academic achievements in English, as well as other subjects in weekly Celebration assemblies. Rewards are also given in the form of prizes for children completing their Readathon bookmarks.
Individual Liberty
We promote freedom of choice in English lessons and the right to respectfully express views and beliefs. Through the provision of a safe, supportive environment, we provide boundaries for our pupils to make choices safely. For example, choices about how they will innovate when planning and writing their own texts and choices about which writing aids they will use to help scaffold and support their work. As our children become more proficient and fluent readers, they are encouraged to independently choose their own reading book to take home, suited to the level they are at. They also understand that with rights come responsibilities and they must take a pride in their English work and look after their exercise books, reading books and reading records.
Mutual respect and tolerance of those with different faiths and beliefs
As an inclusive school, we are proud to promote and celebrate different backgrounds and beliefs. We provide pupils with the opportunity to learn how to debate and defend points of view in English. Our diverse literature spine incorporates stories from different faiths and cultures, such as The Firework Maker's Daughter, Lulu's First Day, Nimesh the Adventurer, The Boy at the Back of the Class and Look Up.
Reading Documents