INTENT
At Hunsbury Park, our Geography curriculum has been designed and developed to create children who can strive to become global citizens that have a solid foundation of knowledge of the world around them. This is in line with our Golden Threads running through our curriculum are the school values of Respect, Resilience, Responsibility Compassion, Perseverance and Integrity; more importantly, how these apply to the wider community and world, not just our school.
It is important to us that the fieldwork skills and knowledge imparted to our pupils should be a fundamental life skill rather than a discrete subject taught in the classroom. The geography curriculum has been designed to inspire curiosity and fascination about the world and its people particularly as we live in a diverse society. It has been designed to equip pupils with knowledge about diverse places, people, resources and natural and human environments, together with a deep understanding of the Earth's key physical and human processes. As pupils progress, their growing knowledge about the world should help them to deepen their understanding of the interaction between physical and human processes, and of the formation and use of different landscapes and environments.
Earth provides us with our needs for today and learning how our actions can influence its future will help children begin to make informed decisions about the way they live their lives now and in the future. We are keen to nurture minds that are to become responsible citizens who will work to protect the world for future generations.
IMPLEMENTATION
In Geography, class teachers use a range of high-quality resources to bring Geography and a wide range of geographical locations and skills to the pupils. For example, each phase has a unit every year which works to build upon and develop the geographical skills and fieldwork. There is also a range of opportunities in each unit to compare and contrast geographical features with the local area of the school. This is really important for our pupils so that they can develop awareness of how other people around the world live.
In each phase at least one topic per year has been tailored to ensure children within Hunsbury Park have the opportunities to be fully exposed to and experience all skills and learning outlined within the National Curriculum. This is achieved through mixed year groups running over two cycles which show rigorously planned retrieval, expectations and progression through each phase.
To support the learning, children also have a knowledge organiser in their book and on display with key learning points and maps, diagrams, facts and vocabulary. Fieldwork is an integral part of the Geography curriculum. In each phase, the children have the opportunity to go and explore the local area surrounding Hunsbury Park Primary School. By exploring the local area the children can compare and contrast how our way of life is different to other communities around the world. It also enables us to explore how the local area of Northampton has changed over time and how the Shoe Industry has impacted Northampton.
IMPACT
Our geography curriculum is high-quality and sequenced to demonstrate progression in knowledge, skills and vocabulary. Children deepen their understanding of the interaction between physical and human processes and how this affects landscapes and environments. We measure the impact of our curriculum through the following methods:
Assessing on-going learning and children's understanding of locational and place knowledge, human and physical geography, and how to communicate geographically using technical vocabulary.
Revisiting previous learning during 'retrieval tasks' during lessons.
We also try to share images and videos of the children's learning through our school Class Dojo account.
The Geography leader takes the time to interview pupils about their learning through pupil voice and reviewing the books.
SEND AND DISADVANTAGED PUPILS
At Hunsbury Park Primary School we believe that inclusive education means providing all pupils with appropriate education and support alongside their peers. In Geography, this is no different. Our curriculum has been designed so that there are topics which pupils in our locality can relate to. This helps to make Geography relevant and applicable to our pupils. Where necessary, additional intervention and adult support will help foster a passion for Geography and a positive attitude towards what can be achieved.
How Does Geography Promote British Values?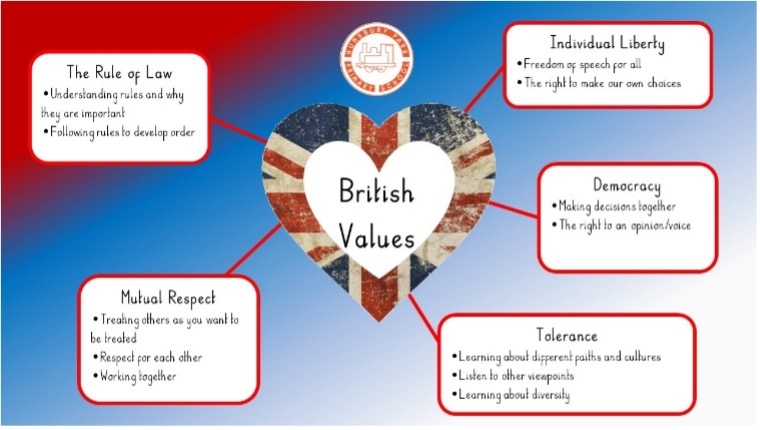 At Hunsbury Park Primary School, we strive to ensure that British values are promoted throughout our curriculum. In Geography, British values underpin all of the topics that the children learn about throughout their time at Hunsbury Park Primary School.
Geography is the study of people and their environments. Being a UK school, much of what we teach focuses on the UK and uses UK examples which teaches the students about different areas and communities around our country. This therefore demonstrates the diversity that is evident in today's Britain and also often links it to our past history to explain how we are today.
Through our topics about locations around the world, pupils learn more about the international community and the relationship they share with the UK, linking to mutual respect and tolerance for those that are different to us. Through comparing and contrasting areas around the world with different communities in the UK our pupils learn about and can respect other countries while distinguishing between what makes our country unique. We give all of the children ample opportunity observe, discuss and evaluate the similarities and differences. This can be seen across our school: in Phase 1 pupil's compare life in the UK with Chin; in Phase 2, pupil's learn about life in Poland; and in Phase 3, pupils compare and contrast life in the UK with South America. We encourage our pupils to be respectful the other cultures we learn about and strive to expand their knowledge of the community around them and across the world.
As the environment and landscape we live in is ever changing, we endeavour to promote an awareness and understanding of globalisation, global climate change and the ethics of trade across the world. Thus, encouraging pupils to be aware of their individual liberty and the rule of law in the UK and across the world. In Phase 1, pupils undertake an in-depth study of London and the coastline which addresses the issues faced by these places. In Phase 2, pupils investigate the rainforests and the issues surrounding that. In Phase 3, pupils learn about land use in the UK as well as the issues facing the polar regions.
Geography Documents